This guide is the work of many contributors but the brainchild and product of two authors, Bill Broyles and Roger McManus. It is presented here, available free to the public, through their generosity. Their love of the Sonoran Desert can be seen clearly as you read the descriptions in this guide. Both authors have tirelessly supported the desert's preservation in many other ways as well. The Guide when originally produced was a printed booklet created by the Friends of the Sonoran Desert. It is now out of print. We hope this electronic edition, recreated with their support will make the guide available to a larger, appreciative audience.
The Cabeza Prieta Natural History Association hosts the guide with the hope that visitors on the Camino del Diablo will see the desert road and it's surroundings as a study of nature to be investigated, viewed, photographed, breathed in, and fully experienced. We will continue to add to it's natural history focus in our attempt to support that experience. Your comments are welcomed. Please submit any suggestions you may have to make the Guide more user friendly, informative, and memorable.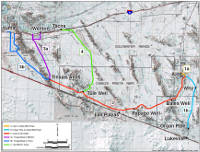 Map of Routes
In the process of creating a digital version of the El Camino Guide several enhancements were added. Species named in the log are hyper-linked to our database of desert lifeforms, many thumbnail pictures have dark borders and are linked to larger images, some locations are linked to Google Maps, and paragraph topics are highlighted. The linked items open in a new window and returning to the Guide is a matter of closing the page. Additional pictures added to the origional guide have captions giving credit to the contributor.
Copyright Creative Commons
HTML & Programing by
Thomas R. Powell