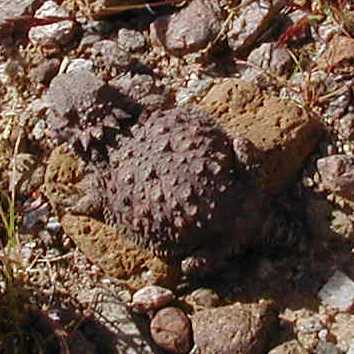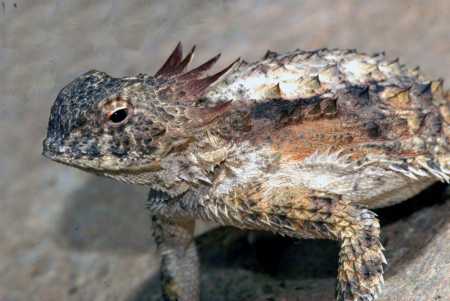 Diet:
mainly ants
Size:
3" to 4½" (7.6 to 11.7 cm) from nose to vent
Identification: 3 - 4 5/8 in. (7.6-11.7 cm). Our largest horned lizard, easily identified by 4 large horns at rear of head. Horn bases in contact. Large light-colored area on back-light gray, beige, or reddish, bordered on each side by a broad dusky band. Sometimes a pale middorsal stripe. Single row of fringe scales on each side of body. Eats chiefly ants.
---
References
Excerpts from A FIELD GUIDE TO WESTERN REPTILES AND AMPHIBIANS, 3/e by Robert C. Stebbins. Copyright (c) 2003 by Robert C. Stebbins. Reproduced by permission of Houghton Mifflin Company. All rights reserved.

---
Photo Credits:
Photo #1
Photo #2

Copyright Creative Commons
HTML & Programing by
Thomas R. Powell