Cabeza Prieta Natural History Association


Pipeline Road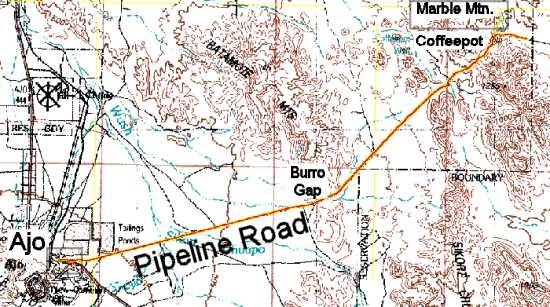 Access Pipeline Road from Route 85. At 1.2 miles from the highway you will come upon a gate. It is not locked. Be sure to close it after passing through. Traveling East on Pipeline Road, you will traverse the "Valley of the Ajo." The road is wide enough for cars to pass until you reach Burro Gap. As you approach Burro Gap, the road condition will become very bumpy, requiring reduced speed of about 10 to 15 mph. You will then traverse a broad bajada area before entering the Sauceda Mountains. After crossing some deep washes and then ascending a steep hill, the road reaches a pass, and then descends gradually alongside a deep east-west wash. Most of Pipeline Road from Burro Gap East is single track with few turn-outs. Within the Sauceda Mountains the road condition changes from bumpy to bone jarring and your pace will deteriorate to a crawl.
Coffeepot Mountain can be seen from Pipeline Road while you are in the Sauceda Mountains. Its recognizable shape makes it a good landmark for navigation. Here is a view of Coffeepot Mountain's West face, and here is the East face.
At the 16.2 mile point, Pipeline Road comes to a fork. The fork that goes straight is a pipeline service road. Take the left fork to stay on Pipeline Road.
GPS Coordinates, Mileage and Elevation
| | | |
| --- | --- | --- |
| Pipeline Road Entrance | 32.36621°N, 112.83906°W | 0.0 miles, elevation 1713 feet |
| Gate | 32.37316°N, 112.82108°W | 1.2 miles, elevation 1622 feet |
| Route Warning - Road Fork | 32.48185°N, 112.59789°W | 16.2 miles, elevation 2655 feet |
| Marble Mountain Road Junction | 32.4872964°N, 112.5947531°W | 16.5 miles, elevation 2600 feet |
Copyright Creative Commons
HTML & Programing by
Thomas R. Powell