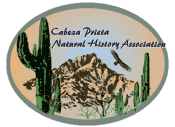 CPNHA ANNUAL REPORT FOR 2016-17
The Association sponsored or co-sponsored the following activities and events during the fiscal year.
Pot Luck
We held two tours and Potlucks on top of Childs Mountain during the evening of full moon. One was in November and the second was in March. This is a particularly good place to watch sunset and moonrise as it overlooks both the Cabeza Prieta Refuge and the Barry M Goldwater Range.
Nature Walks
CPNHA members led five walking tours. Destinations included Alamo Canyon and Arch Canyon as well as Victoria Mine. One scheduled to Bull Pasture was canceled due to high temperatures. Hikes were divided between Thursdays, and Saturdays, with the goal of enabling greater participation by the public.
Sonoran Lecture Series
Since 1996 the Association has sponsored evening talks. This year we used the Ajo Ambulance Building. On January 12, Paule Hjertaas gave a talk and showed pictures, "Birding in the Sonoran Desert", on January 26, Sue Rutman presented, "A View of the 2012 Epic Flood in Alamo Canyon, as Seen through Aerial and Ground Photography" This talk was the annual Tim Lengerich Memorial Lecture. On February 2, Pinau Merlin spoke on "Secrets of the Owls and Night Birds", February 9, we heard from Wayne Ranney with "Ancient Landscapes of the American Southwest", and on March 9, Dennis Lettenmaier, presented his talk on hydrology. The Association thanks Ajo Ambulance for making its meeting room available for these public purposes. CPNHA thanks all who contributed to the lecture series.
Bookstore
The Association is now operating a bookstore at the Saturday farmers' markets on the Plaza, mostly on the second and 4th Saturdays of the month. Our store supplies books, maps, tee shirts, and hats for sale to the general public. Sales for the fiscal year 20116-17 were $3662.76 against a cost of goods totaling $2767.66 Our biggest store purchase was for Legacy T Shirts with the Coyote and our logo. ISDA supplied storage space for our stock and supplies. The Executive board along with members volunteered to be the sales staff. CPNHA provided all of the funding, technical support, and management for the store and Ajo Resale contributed the sales fee charged by the market organizers.
CPNHA Thanks Ajo Resale and all who purchased books and items from the store.
Nature Road Trip on the Camino del Diablo
On March 11-13 we led a nature tour across the Cabeza Prieta Refuge and Barry M Goldwater Range along the fabled El Camino Del Diablo. We used the newly published "Guide to the El Camino Del Diablo" written by Roger McManus and Bill Broyles" Copies of the guide are available at our store.
Copyright Creative Commons
HTML & Programing by
Thomas R. Powell