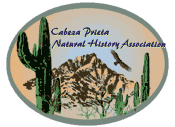 CPNHA ANNUAL REPORT FOR 2011-12
The Association sponsored or co-sponsored the following activities and events from January 1 through the end of March, 2012:
Childs Mountain Tours
CPNHA led three tours between January and March, inclusive. This was three fewer tours than in the recent past because the Refuge had decided to assume responsibility for conducting tours as part of "Ajo Second Saturdays". Tours conducted by the Refuge were by appointment and those by CPNHA were open to anyone who came to the site at the time announced in the newspaper.
Nature Walks
CPNHA led six walking tours, five in the desert surrounding Ajo and one at Organ Pipe Cactus National Monument. About half of these were on Thursdays, the other half on Saturdays.
Sonoran Lecture Series
During the period, lectures were given by Rick and Sandy Martynec of CPNHA on the topic of man-made erosion at Las Playas, by Viv Sartori of Organ Pipe N.M. on backyard bird watching , by Mary Estes on the Air Force Station at Childs Mountain, by Bill Georgevich on alternative energy , and by Tim Tibbitts (the Tim Lengerich Memorial Lecture) on endangered species of the Sonoran Desert.
Bookstore
The Association continued to maintain a bookstore at the Refuge Visitor Center supplying books, maps, tee shirts, and hats for sale to the general public. Sales for FY 2011-12 were $6363.90 against cost of goods totaling $1981.18. Besides the physical space for display of wares, the Refuge provided sales personnel. CPNHA provided all of the funding, technical support, and management responsibilities.
Sonoran Symposium
In March the Association, as it had done in 2010, helped to sponsor and participated in the second biennial Sonoran Symposium, which explores environmental and cultural interests relating to the Sonoran Desert. CPNHA provided volunteers for various parts of the program but principally as hosts for the presenters in the classroom sessions.
Outdoor Adventure Camp
CPNHA purchased food and loaned equipment for a late spring program designed to involve youth in outdoor activities. This community outreach is a cooperative effort of CPNWR, Pima County Parks and Recreation, Organ Pipe Cactus N. M., and the Association.
Special Projects:
By converting part of a utility room at ISDA, CPNHA constructed a secure storage space for equipment and supplies used by the organization.
HTML & Programing by
Thomas R. Powell