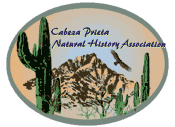 CPNHA ANNUAL REPORT FOR 2012-13
The Association sponsored or co-sponsored the following activities and events during the fiscal year.
Childs Mountain Tours
CPNHA led or helped to lead three tours between the first of January and the end of March. This was three fewer tours than in the recent past because the Refuge had decided to assume responsibility for conducting tours as part of "Ajo Second Saturdays". Tours conducted by the Refuge were by appointment and those by CPNHA were open to anyone who came to the site at the time announced in the newspaper.
Nature Walks
CPNHA members led five walking tours, two in the CPNWR, one in the BMGR near Hat Mountain, one at Coffee Pot mountain and just east of Coffee Pot on BLM land, and one inside Organ Pipe Cactus National Monument (Grass Canyon). About half of these occurred on Thursdays, and, with the goal of enabling greater participation by the public, the others were scheduled on Saturdays.
Sonoran Lecture Series
During the period, the following public presentations were sponsored by CPNHA:
At the Ajo Community Center on January 29, Rick and Sandy Martynec, "Plants, Animals, Rocks and Water Around Ajo from an Archeologistís point of View" and on February 12, Sue Rutman, "Early Days in Ajo". The latter was the annual Tim Lengerich Memorial Lecture. CPNHA expresses its gratitude to Pima County Parks and Recreation for the use of the Community Center at Bud Walker Park.
At the Ajo Ambulance Barn on February 26, Jim Atkinson, "Sonoran Pronghorn Recovery Triumphs and Challenges", on March 12, Jim Atkinson again, Local Snake Identification at a Glance", and on March 26, Adrianne Rankin, "Landscapes of Knowledge: Traditional Cultural Properties in the Western Papagueria". The Association thanks Ajo Ambulance for making its meeting room available for these public purposes.
CPNHA thanks all who contributed to the lecture series.
Bookstore
The Association continued to maintain a bookstore at the Refuge Visitor Center, supplying books, maps, tee shirts, and hats for sale to the general public. Sales for the fiscal year 2012-23 were 5869.12 against cost of goods totaling 3593.85. (Sales for FY 2011-12 were $6363.90 against cost of goods totaling $1981.18.) Besides the physical space for display of wares, the Refuge provided sales personnel. CPNHA provided all of the funding, technical support, and management.
Sonoran Symposium
In March the Association helped in the planning and execution of the third biennial Sonoran Symposium, to be held in March of 2014. The Symposium explores environmental and cultural interests relating to the Sonoran Desert. The Association intends to be a co-sponsor and to provide financial support and volunteers for this community event.
Submitted by John Cooper, President
Copyright Creative Commons
HTML & Programing by
Thomas R. Powell